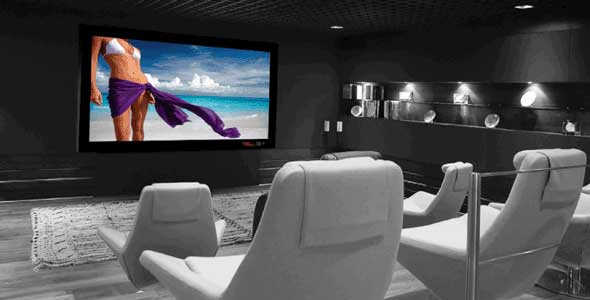 Fixed Screens with masking: Reference X-Mask TheaterCurve
Precision masking systems with acoustically transparent masks
Independent motors with ultra quiet mechanisms
Patented Pi-Grip™ fabric attachment system
Screen curve radius optimized for each screen size
Handcrafted velour frame finish
Standard flush-mount wall-brackets included
Compatible with all ClearPix™, MultiPix™ and SolidPix™ screen fabrics
TailorMade finish options
Leather frame finish in a choice of 34 colors
Full Closure masking
Lutron Sivoia QS motors
Screen Research's patented Reference X-Mask TheaterCurve screens provide the ultimate in home theater performance and experience. Fully variable motorized masking driven by independent motors allow the flexibility to place the perfect black border around any projected image, no matter what the ratio. The screen curve radius of every Screen Research TheaterCurve screen is individually optimized to ensure the best performance. A cinematic experience with improved perceived image depth and an attention to detail that eliminates image distortion.
Acoustically transparent masks preserve the audio integrity of the performance when using Screen Research's patented ClearPix2 screen fabric.
A flexible range of motor control systems allow a variety of control input protocols, Infrared, Radio Frequency, RS232, or TCP/IP, permitting integration to virtually all proprietary command and control systems.
Reference X-Mask TheaterCurve screens can be specified with a range of TailorMade finish options, allowing a high level of personalization of the screen. A leather frame available in a range of 34 colors adds a unique feel to the screen, Full Closure masking hides the projection surface when not in use, and Lutron Sivoia QS motors allow virtually silent motor operation.
The T-X4S screen is available in both 1.78:1 and 2.40:1 native ratios and is unique as it features variable masking on all four sides of the screen, allowing any image aspect ratio to be achieved on a curved frame.
The T-XTS screen is a constant width screen in 1.78:1 native ratio with variable masking top and bottom. The T-XLS screen is a constant height screen with variable lateral masking which will achieve any ratio from 2.40:1 to Full Closure, if specified.
Screen Research's Reference X-Mask screens offer the features, performance, and flexibility to deliver in any system.