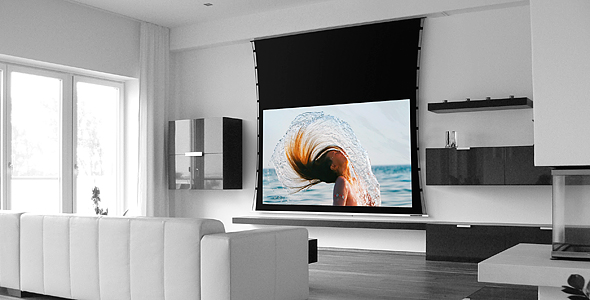 In-ceiling Slot Motorized Screens: Supreme In-ceiling Slot
New casing design
New installation brackets system
New lateral cover with magnets system attachment
New safety cables system
Slot opening
Patented TFX™ Floating Tab-tensioning standard for all screens
White casing
Black low bar (White optional)
Mounting brackets included Smooth, quiet and durable operation with thermal overload protection
Screen Research's in-ceiling model MS3-IS features a newly designed casing that can be integrated into a ceiling or false ceiling.
This screen solution allows a more convenient and quick installation thanks to the improved new installation brackets and the new lateral cover with magnets system. In addition the casing is provided with new safety cables.
The screen comes with a new lower bar, ensuring better aesthetics and uniform view, and with the patented TFX™ Floating Tab-tensioning system.
The weight-efficient structure of this screen can be optimized during installation, eliminating any possible deformation of the roller assembly. This allows the use of more rigid fabrics, in larger sizes, offering the option of longer custom drop combinations. It features smooth, quiet and durable operation with thermal overload protection.