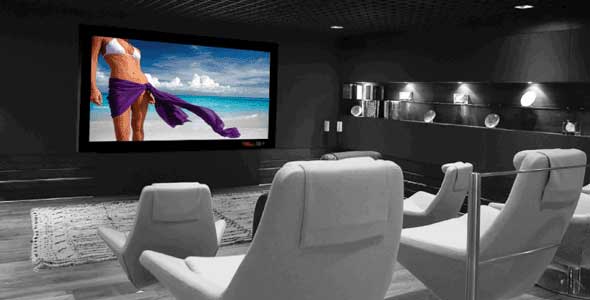 masked Fixed Frame Screens: Reference X-Mask
Precision masking systems with acoustically transparent masks
Independent motors with ultra quiet mechanisms

E-Grip fabric constant attachment system

Handcrafted velour frame finish
Standard flush-mount wall-brackets included
Compatible with all ClearPix™, MultiPix™, and SolidPix™ screen fabrics
TailorMade finish options
Leather frame finish in a choice of 34 colors
DecorMask full height printed masking
Full Closure masking

Nice ERA INN silent and speed-controlled motors
Screen Research's patented Reference X-Mask screens provide the ultimate in home theater performance. Fully variable motorized masking driven by independent motors allow the flexibility to place the perfect black border around any projected image, no matter what the ratio.
Acoustically transparent masks preserve the audio integrity of the perfomance when using Screen Research's patented ClearPix2 screen fabric.
A flexible range of motor control systems allows a variety of control input protocols, Infrared, Radio Frequency, RS232, or TCP/IP, permitting integration with virtually all proprietary command and control systems.
Reference X-Mask screens can be specified with a wide range of TailorMade finish options, allowing a high level of personalization of the screen. A leather frame available in a range of 34 colors adds a unique feel to the screen; DecorMask and Full Closure masking provide two alternatives to hiding the projection surface when not in use and Nice ERA INN motors for a noiseless operation.
Whatever your requirements for your home theater, Screen Research's Reference X-Mask screens offer the features, performance, and flexibility to deliver.
Informations about new X4R3, XLR3 and XTR3 models already shipping will be updated soon.