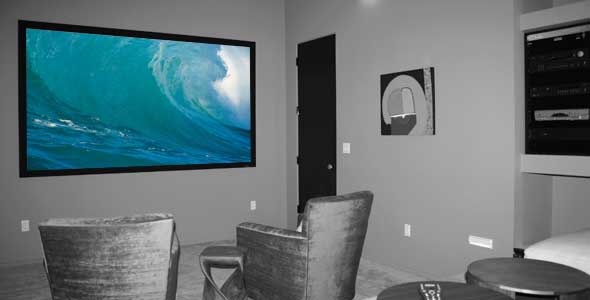 Fixed Screens: Supreme
E-Grip constant fabric attachment system
StopLight™ black backing attachment system for use with ClearPix2™
New rigid frame design
Compatible with all ClearPix™, MultiPix™ and SolidPix™ screen fabrics
Supreme velour finish
Two types of wall-bracket included
Available in a wide range of sizes, Screen Research's Supreme range of fixed-frame screens provides the perfect platform for the award-winning and patented, THX®- and ISF®-certified ClearPix2 screen fabrics and the ISF-certified SolidPix fabrics.
Featuring the E-Grip fabric constant attachment system with auto-tensioning StopLight black backing attachment system, the Supreme fixed frame screen range has a newly designed frame, finished in Supreme velour.
The new frame is even more rigid than its predecessor, eliminating any frame distortion, even on larger sizes. This provides a perfectly flat platform for any screen fabric. The new E-Grip constant attachment system means that it is simple and fast to install.
Provision of two types of wall-brackets as standard means that the Supreme fixed frame is ready to install out-of-the-box. A comprehensive range of optional mounting-brackets is also available to cater for a variety of installation conditions.