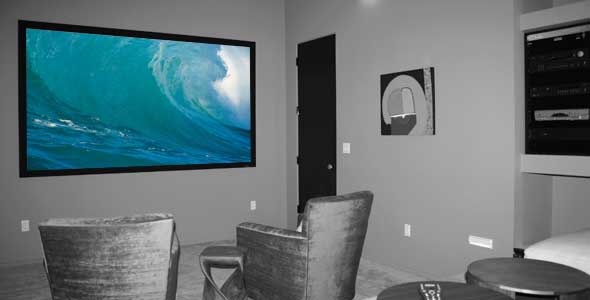 Fixed Screens: Supreme TheaterCurve
E-Grip constant fabric attachment system
StopLight™ black backing attachment system for use with ClearPix2™
New rigid frame design
Compatible with all ClearPix2™, MultiPix™ and SolidPix™ screen fabrics
Supreme velour finish
Improved perceived image depth
Screen curve radius optimized for each screen size
Screen Research's Supreme TheaterCurve fixed-frame screens are available in a wide range of sizes provides the perfect platform for the award-winning and patented, THX®- and ISF®-certified ClearPix2 screen fabrics and the ISF-certified MultiPix and SolidPix fabrics.
The Supreme TheaterCurve range has a newly designed frame featuring the E-Grip fabric attachment system with auto-tensioning StopLight black backing attachment system and is finished in Supreme velour.
The new frame is even more rigid than its predecessor, eliminating any frame distortion, even on larger sizes. This provides a perfectly flat platform for any screen fabric. The new E-Grip attachment system means that it is simple and fast to install.
The screen curve radius of every Screen Research TheaterCurve screen is individually optimized to ensure the best performance. A cinematic experience with improved perceived image depth and an attention to detail that eliminates image distortion.