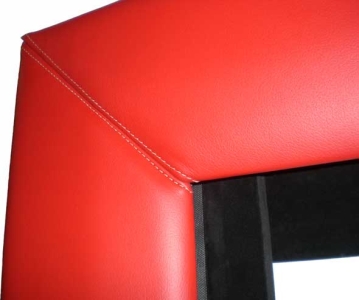 Tailor-Made Finish Options
Available in a range of several colors
Upholstered construction
Hand-finished by artisanal craftsmen
Includes personalized care pack
Black image border guarantees perceived contrast ratio of image and eliminates projector overscan
Screen Research's Tailor-Made Leather Frame Finishis is available as an option on all flat new generation Reference X-Mask screens up to a maximum image width of 160".
The exclusive finish was developed in partnership with a leading Italian leather specialist and artisanal Mastrotto Group. Available in a range of several colors, the leather is fully upholstered and stitched to give a real furniture look and feel to the screen.
Each screen is provided with a personalized matching care pack so that the leather can be kept in superb condition throughoout the life of the product.
To ensure that video performance is not compromised by any light reflecting off of the leather frame, a new black image border has been introduced into the design. This ensures that the perceived image contrast ratio is maintained and that any projector overscan is eliminated, giving the projected image a clean, crisp edge.